As I was mentioning to you so many times on Instagram, few days ago I went on a tour around New York and relived some of the Gossip Girl moments. I am a huge huge fan, and that is one of the shows I grew up with, and I can say it has also formed even more my love for fashion. Do you remember the Met steps, Constance and St. Judes high school, the Empire Hotel, the Palace Hotel, etc? Well, I have seen all of the places live!
There are a few facts that I didn't know up until now about the show. For example, their high school during the show was actually two different building, out of which one is a Russian church and the other is a museum? In any case, they look exactly the same and that is all that matters! Then, do you remember the luxurious home of the fabulous Nate Archibald? Well, the house actually was rented from a family that lives there and it was left exactly the same. What is interesting is that during the filming of the show, the producers really cared about the spots, so they have spent a huge amount of money in order to make it a real Upper East Side atmosphere. Our gathering point in the morning was the palace Hotel where Chuck and Serena lived for the first two seasons, and we were told that the loft was actually open to the public for some time! Unfortunately, it has been sold recently to a private owner so now it is used only for private events. Too bad! 🙁
Of course, it was not allowed entering with the bus in the Central Park so I went there myself the day before. I took pictures on the steps where Serena and Blair met at the beginning of the first season, and where Chuck and Blair tied the knot. Awesome place! Too many people were there, of course, however I managed to catch the total look of the day.
I was wearing a baby pink skirt and a very comfy off the shoulder top. Here it is really warm so I am happy that I can wear something very light but elegant. In the past weeks I am so attached to this Folli Follie watch, that is actually similar to my previous one, but I am kinda caught with this one now. 😀 I am always sure that less is more, and with a perfect watch you can pull out a perfect outfit.
---
Come vi dicevo gia mille volt su Instagram, qualche giorno fa sono andata a fare un giro della città dei posti di Gossip Girl. Quella serie e' una delle mie preferiti e non vedevo l'ora arrivasse questo momento.
C'erano alcune cose del show che non sapevo prima per niente. Per esempio, sapevate che il loro liceo che vedevamo erano due palazzi diversi, una e' la chiesa russa e l'altra un museo? Molto random, ma comunque uguali come nella show, che e' la cosa più importante. Poi, vi ricordate la casa del bellissimo Nate Archibald? Allora, in quella caso davvero abita una famiglia ricca e la casa e' stata affittata, ma non hanno cambiato niente. I direttori della serie volevano davvero far impressione giusta del Upper East Side e hanno spesso un sacco dei soldi per gli affitti giusti. Noi il mattino ci siamo incontrati davanti al Palace Hotel, il posto dove Chuck e Serena hanno visto per le prime due stagioni. Anzi, ci hanno detto che l'appartamento era anche aperto al pubblico ma comunque recentemente e' stato comprato ed adesso e' aperto solo per gli eventi privati. Che peccato. 🙁
Siccome il bus non può entrare nel Central Park, il giorno prima ci sono andata da sola ed ho fatto delle foto nella zona dove Blair e Serena hanno litigato la prima stagione. Oppure le ricordate dove Blair e Chuck si sono sposati.
Ho messo una gonna di colore rosa pastel ed il top molto semplice e leggero. Nelle ultime settimane non riesco a staccarmi da questo orologio di Folli Follie. Secondo me e' sempre meglio mettere meno accessori, e con l'orologio giusto si può fare un look splendido.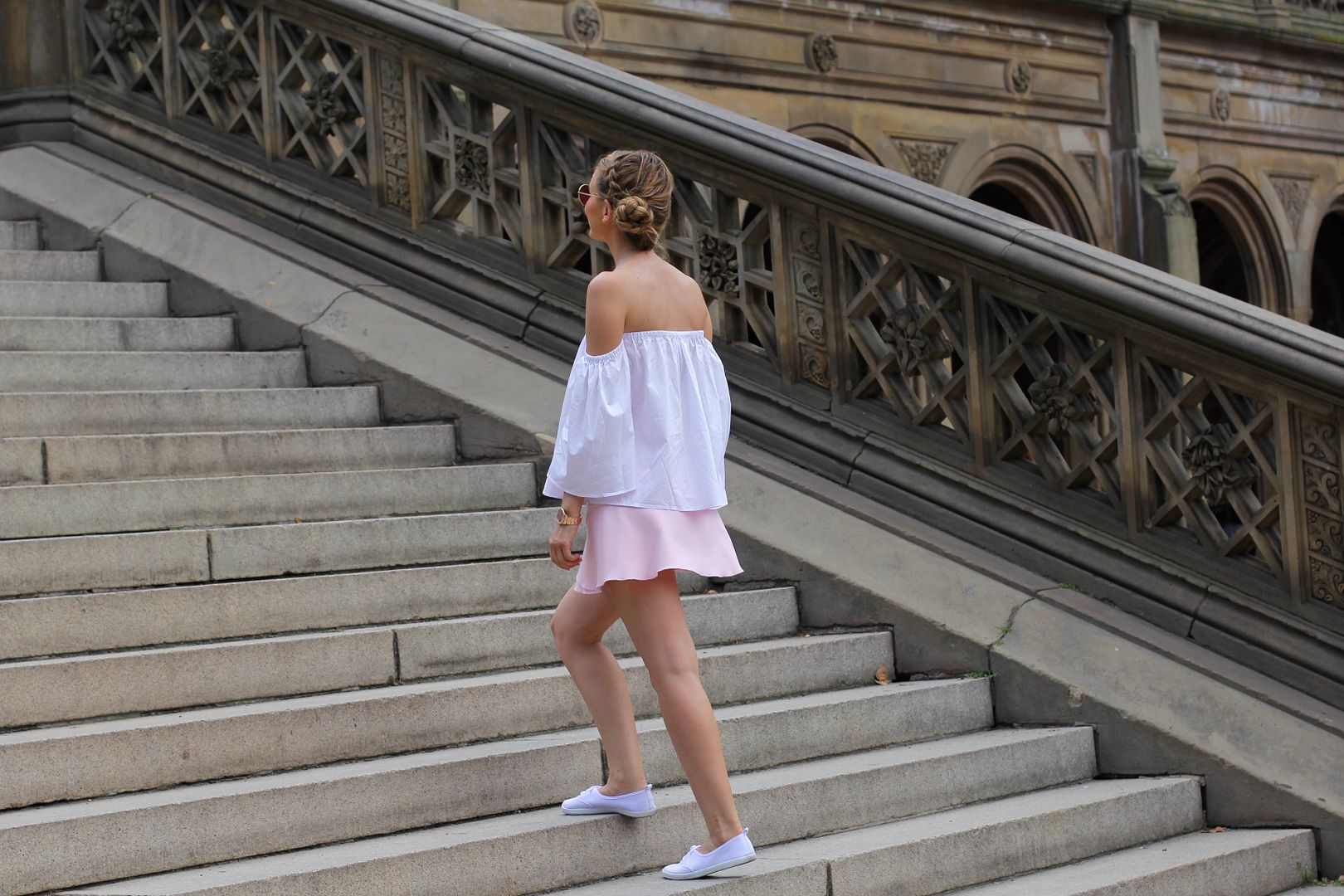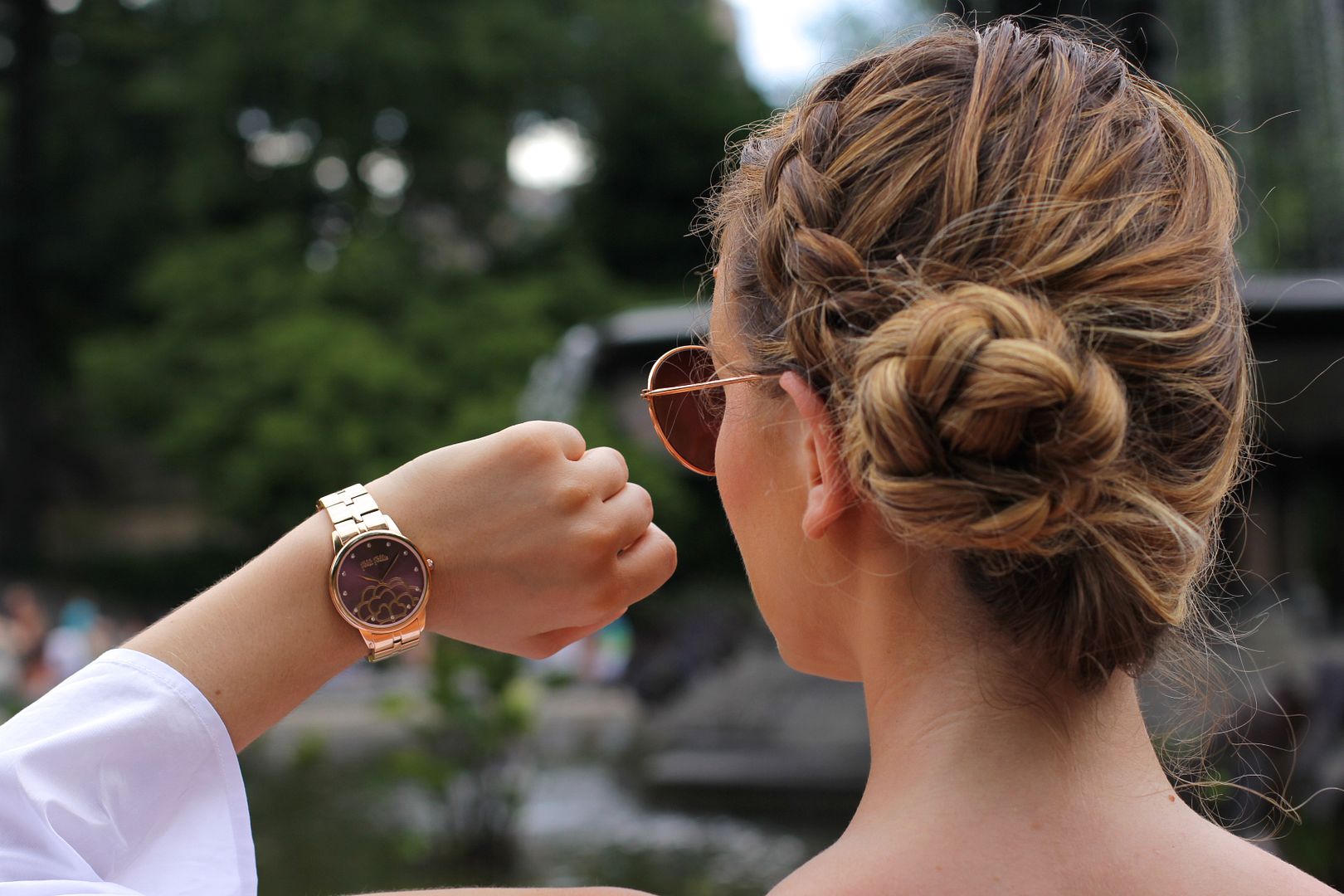 Shop the look:

I was wearing:
Zara skirt (similar here)
Tags: blair, central park, chic wish, Chuck and Blair, empire hotel, fashion, folli follie, Gossip Girl, nate archibald, New York, palace hotel, Serena, show, travel, upper east side
Trackback from your site.