Last few days I was in Milan with my family to celebrate my graduation. I had a ceremony at Bocconi on Friday afternoon and it was one of nicer experiences in my last years. I love how it is organized. When you come there you get the toga and the hat, and then you feel like the real graduate. 🙂 Your family and friends have the opportunity to enjoy with you in that moment, see you when professors hand you your diploma for which you have worked hardly in the last years.
Now when I think about it, going to Bocconi and Milan has been one of my best decisions on life. I got the opportunity to live a completely new reality, meet new people, learn new languages, make friends for life, party, live alone and become independent, and enjoy what Milan has to offer. Honestly speaking, I cannot even imagine myself now having chosen something else, because then I don't know what person I would be, and I like myself the way I am now. Living abroad offers you not just the opportunity to see the world, but also to broaden your vision, become more tolerant towards other people and nationalities, and also to see and catch the opportunities when they are practically invisible. You develop your skills of being all by yourself, and yet find it very challenging.
I say hi to all the people who mean and meant something to me during these 4 years, with all of you I have learnt something and you have given me something special. I love all my friends all around the world, many I hear regularly, also there are some that I hear a bit less but I know that once I see you, it will be as if we saw each other every day.
Find your path, follow your dreams, remember that everything is possible as long as you want it very much, but also you have to know that you have to work really hard for it! There is no easier path in life, and everything is a fight!
Now enjoy my photos, there are plenty of them, but I cherish each one of it!! 🙂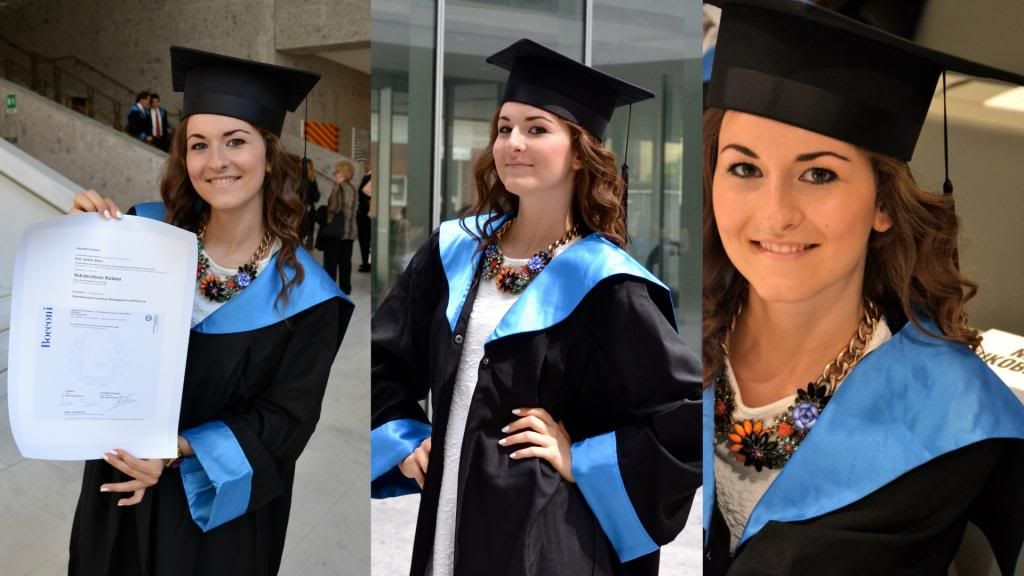 Tags: Bocconi, ceremony, family, fashion, fashion blogger, festa di cerimonia, graduation, graduation ceremony, hat, Italy, laurea, love, Milano, Natasa Blair, student, toga
Trackback from your site.