After all the months of a pure enjoyment and relax, it is time to be back to the same old routine that I have been living in before these summer holidays. You know, I wake up, prepare some breakfast (or if I was dreaming of a brioche that night, I just go and grab myself one in the nearest bakery store), then I see whether I have some posts left to do, and catch up with some leftover emails.
In this period, besides having to plan fashion weeks, I will also be analysing everything that I have done in the past year or so. The last year has been pretty hectic, with lotsa changes and modifications, so now when entering in a new (academic) year, it's time to make those changes even bigger! Up until now you have seen two different layouts of this blog that have been modified a couple of times. After 5 years of Fashion Blog by Natasa Blair, there will be this layout ready for you in a very short time. Actually, not just layout, but you will be seeing many new categories and sections of this website, as I am planning to make it more interesting and eye-catching for you. What's the catch? Well, let's just say that I am really enjoying this what I am doing right now so I want to make it even better!

———————————————————————————————————————————————————————————————————–
Dopo i mesi del relax, e' arrivato il momento di tornare nella realtà e continuare la routine del giorno. Sapete già, mi sveglio il mattino, mi preparo la colazione (anzi, se stavo sognando quella brioche buonissima, vado a prendermela nel panificio più vicino), poi vedo se ho qualche post da scrivere o rispondere alle email che ho lasciato indietro.
In questo periodo, a parte le preparazioni per le settimane della moda, sarò anche ad analizzare tutto quello che ho fatto nel ultimo anno. Era molto incasinato, tanto cose sono successe, tanti cambiamenti, ed adesso, i cambiamenti ce ne saranno ancora! Il mio blog esiste già da 5 anni e avete visto due layot diversi durante questo periodo, ma adesso e' arrivato il tempo per qualcosa completamente nuovo e diverso. Ci saranno le nuove sezioni, categorie, siccome volevo renderlo più interessante per voi. Curiosi? Non vedo l'ora di farvi vedere tutto quello che ho pianificato!
Talking about this look, it was shoot during my stay in Novi Sad, during the days while it was a bit cold. I have to be honest that these jeans were the only warm thing that I had, 😀 I couldn't resist though wearing this cute striped top that is really summerish.
———————————————————————————————————————————————————————————————————–
Parlando del mio look, e' stato scattato quando ero ancora a Novi Sad, quando faceva abbastanza fresco e quando questi jeans bianchi erano l'unica cosa abbastanza calda per il vento. 😀 Non potevo resistere a questa maglietta molto estiva, sulle righe, un po diverse dalle quelle sulle espadrille.
I was wearing:
Miu Miu bag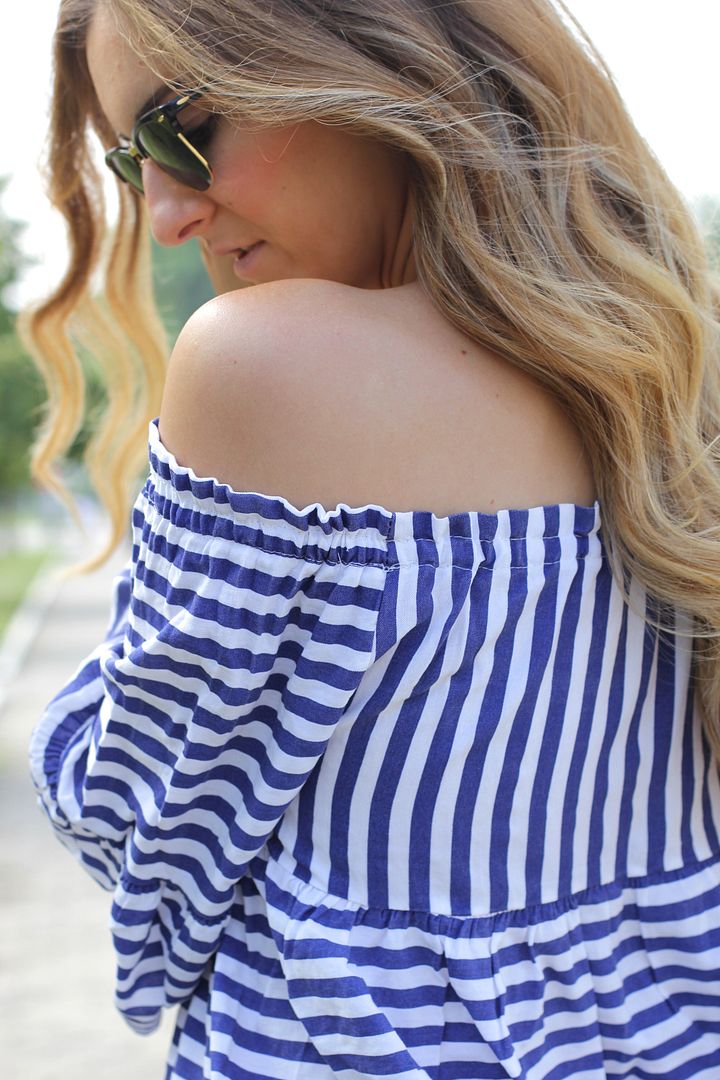 Tags: fashion blog by natasa blair, fashion blogger, fashion week, Milano, moda, Natasa Blair, natasa vukobratovic, Novi Sad, street style, stripes, style, summer top
Trackback from your site.